16 Scam free surveys sites
This post contains affiliate links, which means I may receive a small commission, at no extra cost to you, when you make a purchase. Please, read my affiliate disclaimer for more details.

Did you know you can get paid for online surveys?

Well, paid online surveys are where you get compensated for sharing your opinions.
How this works is a market research company sends you a questionnaire with a list of questions about certain products or services then you fill it out truthfully, and in return, they send you cash or free gift cards.
A survey company like Survey Junkie has a robust interface that allows you to give feedback inside the platform, but others send you questions via email and you return the answers in a similar way.
Paid surveys are all over the place nowadays and it might be difficult to identify the good ones from the bad ones.
That's why I've decided to write this post to show you the best paid online surveys, so you don't waste time sieving through a pile of online surveys that won't do much for you.
Taking paid surveys can be a great way to bring in extra cash in the evenings while watching TV, or while waiting in line at the grocery store.
So, let's have a look at this list of paid online surveys.
16 of the Best Paid online surveys that Pay Well
If you're looking for a list of survey sites that actually pay, then these 16 sites are a great place to start.
Curious just how well these surveys pay? Use the calculator below to estimate how much you can earn per hour of completing paid online surveys.
For example, if you receive a high paying from Survey Junkie for 200 points and it takes 10 minutes to complete, then you will earn $12 per hour. Sign up for multiple survey sites and use the calculator below to always pick the best paying surveys first!Choose your survey site: (Select One) American Consumer Opinion InboxDollars Ipsos I-Say LifePoints MyPoints OneOpinion Opinion Outpost Pinecone Research PrizeRebel Survey Club Survey Junkie Swagbucks Valued Opinions Vindale Research Powered by SurveyGrind
1. Survey Junkie
If you are searching for the highest paying online surveys then you definitely want to check out Survey Junkie!
Survey Junkie is a popular survey site with over 5 million members.
Most of the surveys take 10 to 15 minutes to complete and you can earn up to $10 per hour.
I love how modern the Survey Junkie platform is and how easy it is to take online surveys here.
Junkie pays on per points basis but you can turn the points into cash, and the payout threshold is $10.
Once you take the surveys, you get redeemable points for PayPal cash or free Amazon gift cards.
Signing up to take paid online at Survey Junkie is quick and easy.
Here's How to Take Paid Surveys at Survey Junkie
Looking at the Survey Junkie reviews on TrustPilot, this company has a rating of 8.6/10
Click here to join Survey Junkie and start taking surveys for money!
2. Vindale Research
Vindale Research is a reputable survey company that's been into existence for over a decade now and you can get paid to take surveys online here. It's also among the highest paying paid online survey sites this year. You can earn up to $75 per survey.
You get paid to take surveys, join focus group discussions or review products.
I love Vindale Research for two reasons. They pay the highest for taking online surveys and they also allow you to keep all the products that you review. That's a double win, in my opinion.
Vindale Research has a huge database of paid surveys and their system allows you to see all available surveys and how long each one will take you to complete.
They don't pay in points. They send you real money for every survey you take.
Summary of Vindale Research paid online surveys
Click here to sign up for Vindale Research and start earning up to $75 per survey!
3. Swagbucks Surveys
Swagbucks is a famous survey program that sends you PayPal cash or free gift cards when you answer online surveys, to watch videos, play games, shop online or refer your friends.
Swagbucks has been in operation for a number of years now and has an A+ rating with the Better Business Bureau.
They've paid out over $150 million to its members, and many participants are earning $300+ per month with this company doing a number of tasks.
Joining Swagbucks is pretty easy. Just go to the site and create a free account or download the Swagbucks app and enter your email address. If you have a Facebook account, you can use that to sign up too.
After signing up, Swagbucks will send you a FREE $5 sign up bonus straight to your account. If you are looking for the best app for surveys then you should definitely use the Swagbucks app.
Sign up using this link today and get Swagbucks surveys plus your FREE $5 sign up bonus!
To learn more, read our Swagbucks review.
4. MyPoints
Join MyPoints for free and get a $10 bonus today!
MyPoints is a survey and rewards program that's been around for over 2 decades now. You get paid to take online surveys, shop online, search the web or watch videos.
All you need to do is create a free MyPoints account, fill out your profile then wait for the company to invite you for surveys.
For every survey that you take, you earn points redeemable for PayPal cash or free gift cards from your favorite brands like Amazon or Walmart.
They've also added more and exciting activities for extra pay like printing coupons, buying gift cards, discovering deals, exploring content and much more!
And those are not the only ways to earn. They also have a refer-a-friend program that earns you 10% of your friends' qualifying points.
Click here to join MyPoints and earn up to $50 per survey!
5. InboxDollars
InboxDollars also has legitimate paid online surveys that you can use to make extra money online. They are a bit strict with the application process, but if you qualify they will send you pre-qualified surveys via email.
They pay $3 per survey but also have product testing opportunities. When you finish taking a survey, Pinecone Research will ask you to take product testing offers, as well.
If you agree, InboxDollars will send you product offers that you keep after the testing period is over. Payments are done via PayPal or check.
Summary of InboxDollars paid surveys
Join InboxDollars and start earning $5 per survey!
If you are in the UK and can't access the US gift cards, you can sign up for an InboxPounds account here and get gift cards from the UK.
6. Survey Rewardz
Join Survey Rewardz Panel for free today and earn amazing rewards like vacations, electronics or gift cards at trusted retailers. Getting started is quick and easy.
Just click this link to create your Survey Rewardz account but make sure your contact details are correct. An email will be sent to you with a confirmation link. Once you click on the confirmation link, you will get access to paid online surveys that will earn you VIP points.
7. OpinionInn
OpinionInn is a company that has been around since 2000. They've paid out over $10 million to its members and have a FREE $5 sign up bonus that goes straight to your account when you sign up.
You can earn Amazon or Visa gift cards by searching the web, reading emails, watching videos, or taking from home.
Click here to receive your FREE $5 bonus from OpinionInn plus free gift cards!
8. Surveys2Cash America
Surveys2Cash America is an online survey site targeting United States residents to take online surveys for money.
Just as the name suggests,Surveys2Cash America is a survey company that gives fellow Americans the opportunity to participate in surveys and discussions that influence the brands, products, and services that you all use!
They have lots of surveys offers available and you can earn up to $10 per time
Click here to join Surveys2Cash America and start earning $10 per survey!
9. Survey Voices
Survey Voices took the fourth spot on the list because it's a top survey site that can earn you $300 per week just by answering surveys.
Here's How Survey Voices Work:
What can you do with $300 this week? Lots of things, I'm sure.
Click here to sign up with Survey Voices and start earning $300 weekly!
10. Panda Research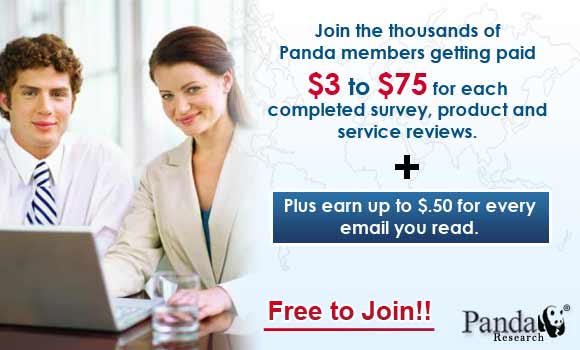 Join Panda Research and make money by answering surveys, reading emails or referring others to the site.
Most activities take 10 to 20 minutes to complete and payments usually go out twice a month via PayPal.
Paid surveys will earn you up to $75 per survey and you get $0.50 for every new email that you read.
You can work on a part-time basis and in your own free time.
Click here to join Panda Research and start earning up to $75 per survey!
11. Hintsters
The Hintsters is a reliable market research company owned by Nielsen Computer & Mobile Panel. You make money online with Harris Poll surveys in the same way I mentioned with other survey sites.
Taking online surveys here will also earn you points redeemable for Amazon gift cards or PayPal cash.
Signing up is quick and easy. Just enter your contact details in this Hintsters form then wait for a confirmation email. After that, you can start answering surveys on the go. They also have local focus groups that pay higher rates than surveys you take from home.
Click here to start earning money from home with the Hintsters!
12. MakeSurveyMoney
MySurvey has some low and some high paying online surveys and you are free to choose the types of surveys you like. It is among the oldest and most reliable survey sites out there today.
They don't have a lot of paid surveys but expect at least 3 survey invitations in a week. So, be on the lookout. Otherwise, you will miss out.
MakeSurveyMoney has amazing features and you are able to see how long each survey takes and the amount to earn for each one.
MySurvey is not worldwide. They only accept residents of the United States, Australia, and England. And most participants earn from $5 to $10 per hour.
Click here to start earning $10 per hour fromMakeSurveyMoney!
13. iSurveyWorld
iSurveyWorld is also a leader when it comes to paid online surveys. They began operations in 1999 and paid out over $30 million to its participants in 2016 alone.
If you are looking for online surveys for money then you should definitely check out iSurveyWorld
For every survey you take, you earn $5 but it's calculated in points that you can redeem for free Amazon gift cards or PayPal cash if you don't want gifts cards.
It's FREE to join Global Test Market and getting started is quick and easy. Click here to fill out the registration form then check your email for a validation link.
After that, you are free to take as many online surveys as possible.
14. Real Surveys That Pay

Real Surveys That Pay is a market research company owned by Critical Mix. They have both online surveys and product testing opportunities.
Real Surveys That Pay pays $3 to $5 per survey and they take 5 to 20 minutes to complete. If you are lucky, you can get other high paying surveys that pay $15 and above.
As for product testing, they will send you new products that you have to test then give your honest feedback.
Apart from compensation, you get free products for life. How cool is that? They reward using points that you can redeem into cash. Their payout threshold is 25,000 points which equate to $25. You can withdraw this amount via PayPal.
15. Zen Surveys
Zen Surveys was established in 2005 and it has more than 16 million members worldwide.
SurveyClub is among the oldest survey sites we have around today. If you are looking for online survey jobs, you can end your search here.
They have a variety of offers that you can complete in exchange for money. You can complete surveys, test product, join focus groups or take part in clinical trials.
Just click here to set up your Zen Surveys profile then you will be notified via email or text message when new opportunities are available.
The Zen Surveys interface is modern and allows you to see how many survey offers are available, how much each one is paying and how long each one should take you.
When you complete each task, cash is deposited directly into your Zen Surveys rewards account. Then, you can redeem it for PayPal cash, Check or Amazon Gift Cards.
16. Earning Station Paid Surveys
You can absolutely make money by taking paid surveys, playing games, watching videos, doing online shopping or using coupons at Earning Station.
EarningStation is a wonderful company that doesn't mind paying you to perform daily tasks that most people do. So, why not sign up and get paid while in your daily routine!
When you sign up, make sure to use the correct email address so that when new surveys are available, you will be notified without fail.
You can make $5 or $10 an hour on average.
Earning Station also has an offer called 'Easy $10'. Here, you earn $10 when you sign up for 5 websites.
This survey site doesn't have a payout threshold. You can withdraw your funds at any time.
Start Taking Paid online Surveys Today!
As you have seen, taking online surveys can be a great way to bring in some extra income as long as you work with some of the best paid survey sites. There are many paid online to choose from. Some will pay you just a few dollars and others have the earning potential of up to $300 per week.
Whichever surveys you choose, make sure they are a perfect match for you and can earn you the top dollar (these are the highest paying online surveys).
Have you used any of the paid online surveys I've mentioned above? Know other paid surveys that I didn't mention on the list? I'd love to hear from you. Leave me a message in the comments below.